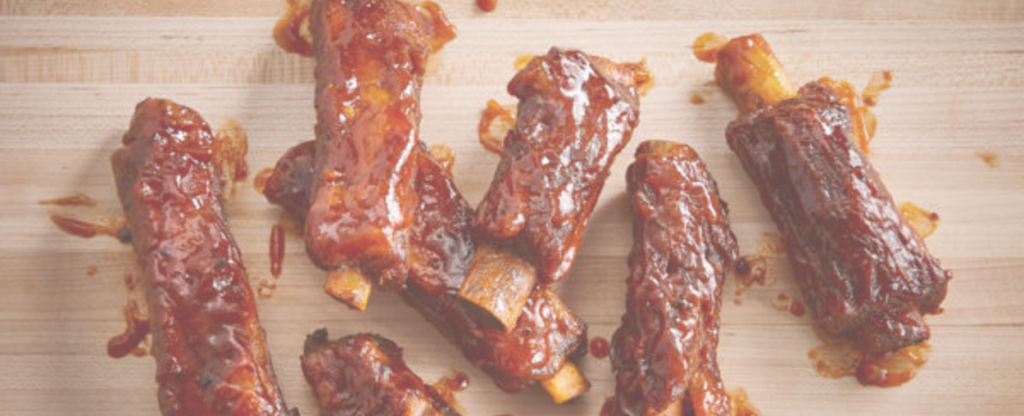 Change up the traditionnal BBQ ribs with this slow cooker maple taffy ribs recipe! Don't have a maple taffy? Replace it with maple sugar or 3/4 cup maple syrup that you will cook to 234 ° F (112 ° C). Enjoy your meal!
Ingredients
Ribs
3 tsp. maple syrup
1 tbsp. chili powder
2 tsp. salt
1 tsp. ground black pepper
1/2 tsp. onion powder
5 lb pork back ribs, individually separated
Maple BBQ Sauce
2 tbsp. butter
1 tbsp chili powder
1/2 tsp. garlic powder
1/2 cup of ketchup
1 tsp. onion powder
1/2 cup apple cider vinegar
1/2 cup maple taffy
1/4 cup powdered mustard
1 tbsp. Worcestershire sauce
Salt and pepper
Instructions
Ribs
In a bowl, combine the maple syrup, chili powder, salt, pepper and onion powder.
On a work surface, generously sprinkle the ribs with this dry marinade, rubbing the meat well on each side.
Transfer the ribs to the slow cooker, cover and cook on low for 6 hours. Stir halfway through cooking. Remove the meat from the slow cooker.
Maple BBQ Sauce
In a small saucepan, over medium heat, melt the butter and sauté the chili, onion and garlic powders for 1 minute. Add remaining ingredients. Bring to a boil and simmer over low heat for 5 minutes or until the sauce is syrupy. Salt and pepper.
Preheat the oven to 200°C (400°F), rack in the center. Place an aluminum foil directly on the grid and place the ribs in it. Grill for 4 to 5 minutes on each side, brushing with barbecue sauce. Serve with the rest of the sauce.
Source: Federation of Quebec Maple Syrup Producers