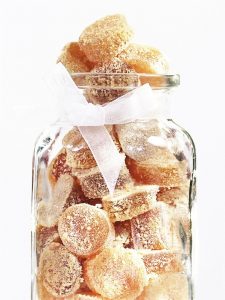 A great and deliciously sweet idea for an unusual and fun parent-child activity!
Yield: about 750 ml (3 cups) of gummies 
Ingredients
500 ml (2 cups) orange juice
250 ml (1 cup)

maple syrup

Juice from one fresh lemon
125 ml (1/2 cup)

maple sugar

5 ml (1 tsp.) butter
6 packets of gelatin
180 ml (3/4 cup) cold water
45 ml (3 tbsp.)

maple sugar
Instructions
1. In a thick bottom casserole, combine orange juice, maple syrup, lemon juice and maple sugar and bring to a boil. Boil for 5 minutes.
2. Add butter and continue to boil for 4 minutes.
3. Dissolve the gelatin in water and add to the hot mixture.
4. Remove from heat and transfer onto a cookie sheet. Refrigerate for 30 minutes.
5. Once set, cut the jelly into pieces to form jujubes.
6. Let them rest in room temperature for 48 hours on a grilled surface, then coat with maple sugar.
7. Keep in a cool and dry place, such as the pantry.
Source: Fédération des producteurs acéricoles du Québec