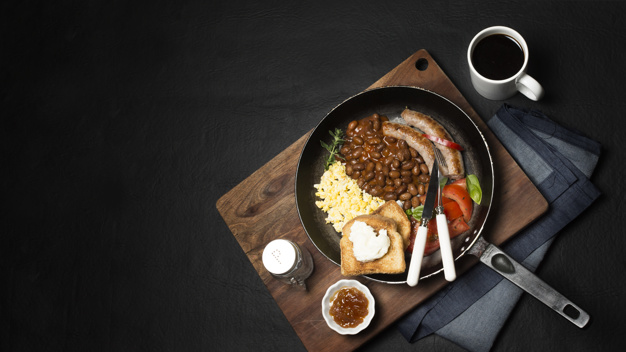 Prepare your traditional homemade baked beans with this maple baked beans and smoked ham recipe! It will please all your guests during your next brunch.
Preparation: 10 min
Marinating/waiting: 10 hours
Cooking: 4h30
Ingredients (4 Servings)
2 ½ cups (625 ml) navy beans
1 onion, sliced
8 oz (250 g) diced salted lard
4 Tbsp. (60 ml)

maple syrup

¼ tsp. (1 ml) dried savory
1 Tbsp. (15mL) white vinegar
1 ml (¼ tsp) black pepper
3 ml (½ tsp) mustard powder
5 ml (1 tsp) prepared mustard
Sliced maple-smoked ham desired amount)

Maple syrup

to taste
Instructions
Soak the beans in water and refrigerate for 10 hours. Drain and rinse.
Arrange sliced onion and one-third of the salted lard in the bottom of a casserole or bean pot.
In a bowl, combine the beans with the maple syrup, vinegar, mustard and spices.
Pour the bean mixture over the onions and add the remaining salted lard. Add water until the beans are just covered.
Bake in the oven for 1½ hours at 135ºC/275ºF. Check the water level (and add water if necessary). Lower the oven temperature to 120ºC/250ºF and bake for 3 hours.
In a ridged pan, cook the maple-smoked ham. Cut the cooked ham into four pieces.
Place the ham on a plate, add the baked beans and garnish as desired.
Drizzle with maple syrup.
Source: metro.ca