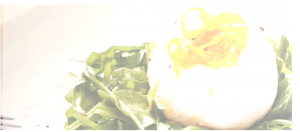 Impress with this perfect maple recipe for those fine weekend mornings and why not in good company during brunch. Originality and good taste are in the spotlight for this healthy breakfast!
Ingredients
4 eggs
3 cups (60g) arugula
Zest and juice of 1 orange
¼ cup (60ml)

maple syrup

1 C. (15ml) white vinegar
2 tsp. (30ml) raspberry vinegar
1/3 cup (90ml) of olive oil
Salt and pepper
Instructions
Heat water in a saucepan, put the white vinegar and poach the eggs for 3 minutes, one at a time, in simmering water. Reserve the eggs on a paper towel.
Make a vinaigrette, whisking in a bowl, the raspberry vinegar, half the maple syrup, the oil, the zest and the orange juice. Salt and pepper.
In 4 plates, divide the arugula, add 1 egg, pour the remaining maple syrup and finish with the vinaigrette.
Serve with fresh fruits, cheeses, toasts and our maple jelly.
Source :  La Cuisine Réconfortante Réinventée, Les Éditions Coup d'oeil