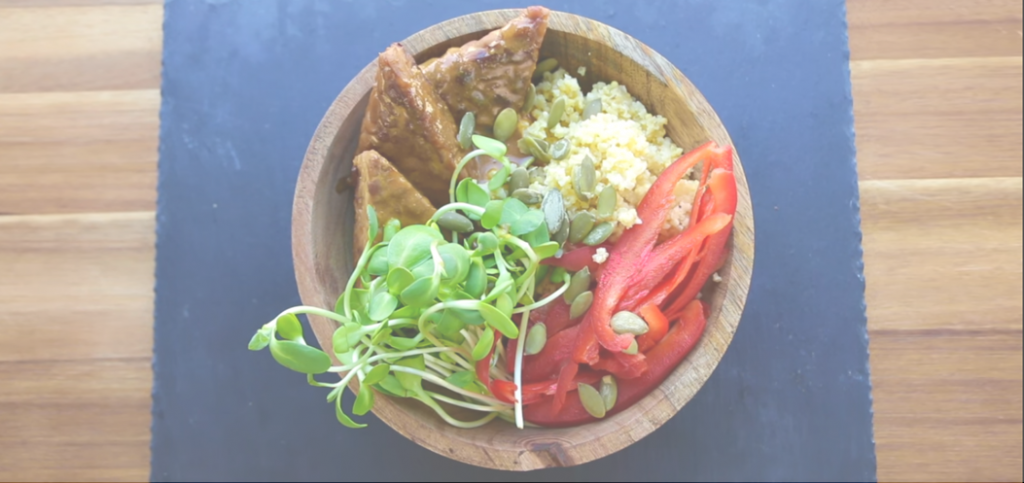 Ingredients
Bowl
2 tbsp. toasted sesame oil
1 tbsp. soy sauce
2 tbsp.

maple syrup

1 cup (250 ml) vegetable broth
1 pack (240g) of tempeh
Quinoa or rice
1 red bell pepper, sliced
Maple dragon sauce
1 tbsp.

maple syrup

3 tbsp. vegetable oil
1 tsp. garlic powder
2 tbsp sou sauce
¼ cup nutritional yeast
Water if necessary
Instructions
In a bowl, combine the toasted sesame oil, soy sauce, maple syrup and vegetable broth.
Cut the tempeh into triangles and place in a pan. Pour the vegetable broth mixture over the tempeh. Simmer on high heat, until the broth is absorbed, about 15 minutes.
For the sauce : combine maple syrup, vegetable oil, garlic powder, soy sauce and nutritional yeast. Mix well. If too thick add a little water.
Prepare quinoa or rice according to instructions.
Serve the tempeh in a bowl along with quinoa, sunflower sprouts, minced red pepper and garnish with pumpkin seeds. Drizzle with the maple sauce.
Source: The Buddhist Chef