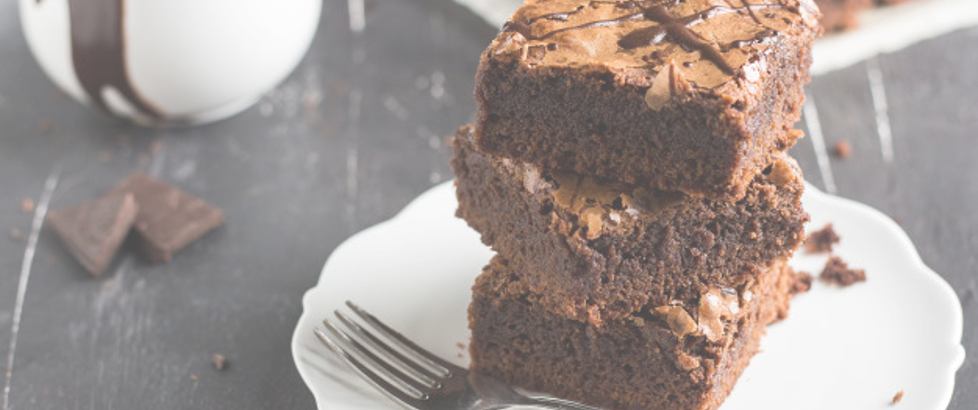 Try this decadent maple brownies recipe with their chocolate frosting. Prepare it with our pure maple syrup for optimal taste!
Ingredients (9 servings)
Brownies
1 cup (250 mL)

Maple sugar

1 cup (250 mL) water
4 squares (120g) of dark chocolate or 2/3 cup of chipits
3 Tbsp. (45 mL) butter
1 1/2 cups (375 mL) flour
1/2 tsp. (2 mL) baking powder
1/2 tsp. (2 mL) baking soda
1/2 tsp. (2 mL) salt
Icing
1 square (30g) of dark chocolate or 1/4 cup of chipits
2 Tbsp. (30 mL) butter
2 Tbsp. (30 mL) whipped cream
1 cup (250 mL) icing sugar
Decoration
Instructions
Brownies
Preheat the oven to 325ºF (160ºC).
In a saucepan, mix the maple sugar, water, chocolate and butter.
Bring to a boil while stirring occasionally.
Once boiling, cook at low heat 5 minutes. Let cool.
In a bowl, mix flour, baking powder, baking soda and salt.
Fold dry ingredients into the chocolate mixture and stir well.
Pour into an 8 inch (20 cm) square greased pan.
Cook about 20 minutes until the brownies are firm to the touch.
Do not overcook.
Top off with icing for brownies.
Icing
In a saucepan, mix the chocolate, butter and whipped cream.
Cook slowly while stirring for about 5 minutes.
When the preparation is homogeneous, add icing sugar all at once and stir well. When the sugar has dissolved, spread on the cooled brownies.
Decorate with maple sugar nuggets.
Source: Recipe adapted by Lisa from metro.ca