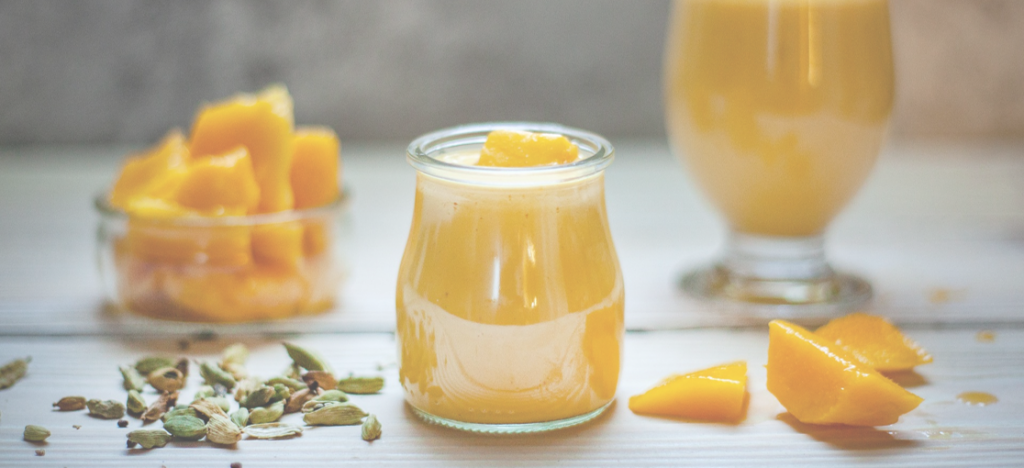 Prepare this creamy mango and maple pudding recipe approved by Diabète Québec! Use our pure Quebec maple syrup for optimal taste.
Good recipe for diabetics
4 servings of 125 ml (1/2 cup)
Preparation: 10 min
Cooling: minimum 2 h
Ingredients
1 mango 680 g (1 1/2 lb)
250 ml (1 cup) light ricotta cheese (about 5 à 7 % fat)
30 ml pure

maple syrup

(2 tbsp)
Instructions
Peel the mango and cut in pieces.
In ablender, mix all indredients until smooth texture (about 2 minutes).
Refrigerate 2 hours.
Serve in a nice dish decorated with a fresh strawberry.
Note: You can change the mango by 4 half pieces of canned peaches rinsed under fresh water.
Nutritive information per 125 ml (1/2 cup)
150      Calories
19 g     Glucides / (4)
8 g       Proteins
5 g       Lipides
0 g       Fibres
Exchange system of Diabetes Quebec
1          fruits exchange
1/2      milk exchange
1/2      meat and substitutes exchange
Source: Adapted recipe from the Milk producers Canadian federation, revised by Danie Ouellette, Spring 2004.
www.diabete.qc.ca