Hot Smoked Maple-chipotle Salmon Chowder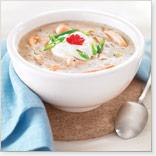 4 servings
4 Tbsp. (60 mL) unsalted butter
2 Tbsp. (30 mL) all-purpose flour
2 Tbsp. (30 mL) buckwheat flour
4 cups (1 litre) fish stock
4 Tbsp. (60 mL) 15% m.f. cream
5 oz. 150 g hot smoked maple-chipotle salmon, flaked
2 tsp. (10 mL) fresh lemon juice
1 cooked potato, diced (½-in./1-cm dice)
Salt and freshly ground pepper to taste
Garnish
4 Tbsp. (60 mL) sour cream
4 tsp. (20 mL) flying fish roe or lumpfish caviar
2 green onions, minced
Preparation
In a saucepan over low heat, melt butter and stir in both flours to make a roux.
Cook, stirring with a wooden spoon, for 4 – 5 minutes, but do not let roux brown.
Add fish stock in a thin stream, whisking all the while. Bring to a simmering boil over medium heat. Lower heat and simmer for 12 minutes.
Stir in cream, smoked salmon, lemon juice and potato and simmer for 2 minutes. Season to taste.
Serve in heated bowls. Set 1 tablespoon (15 mL) sour cream in the centre.
Top sour cream with 1 teaspoon (5 mL) flying fish roe and minced green onions.
Suggestion
Buckwheat flour enhances the taste of the smoked salmon and gives the chowder a Slavic flavour. 
Source: metro.ca