Maple Grilled Pork Tournedos with Spinach, Apple and Endive Salad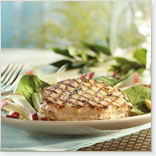 4 servings
Maple dressing
⅓ cup (80 mL) olive oil
3 Tbsp. (45 mL) lemon juice
2 Tbsp. (30 mL)  maple syrup
1 shallot, minced
1 Tbsp. (15 mL) chopped fresh basil
Salt and freshly ground pepper to taste
4 Québec pork tournedos, 5-oz. (150-g) each
2 Tbsp. (30 mL)  Dijon mustard
Salad
2 red apples, julienned or diced
2 endives, finely sliced lengthways
4 cups (1 L) baby spinach, washed and stems removed
2 Tbsp. (30 mL) dried cranberries
2 Tbsp. (30 mL) roasted pine nuts
Preparation
Preheat barbecue to medium-high.
In a big bowl, combine dressing ingredients. Season generously.
Mix 2 Tbsp. (30 mL) and mustard together and brush on tournedos.
Cook tournedos 4 – 5 minutes per side, turning them over only once.
Meanwhile, in a large salad bowl, toss remaining ingredients with dressing.
Adjust seasoning.
Divide salad among plates. Add whole or sliced tournedos and serve.
Suggestion
Vitamin B12 is an essential nutrient required for normal body functioning. Pork is an excellent source of vitamin B12, with a 3½-oz. (100-g) serving of pork providing 38% of the daily requirement. 
Source: Fédération des producteurs de porc du Québec